About the band...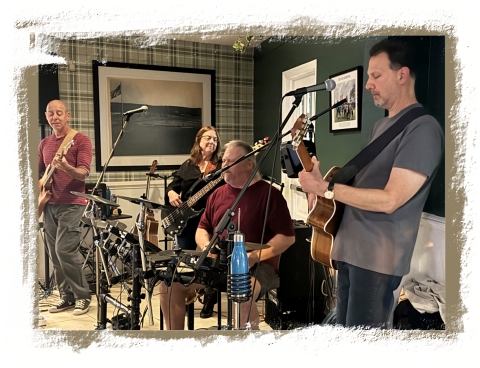 Ingredients: 1 prime cut of Steve "Doc" Doman on drums, vocals, & witty repartee
1 heaping serving of Harvey "Lightnin'" Wechter on guitar, vocals, & quick, decisive "pun"-ishment
1 generous serving of Steve "Gio" Giordano on bass guitar and solid groove anchor
1 thick slice of Jeff "King Jeffe'" Fariello on guitar, vocals, and good libations
Combine all ingredients into one cohesive, groovin' unit. Season thoroughly with a dash of Soul, a touch of Funk, a generous sprinkling of Classic R&B, and most importantly, loads of Rock & Roll. Let simmer for a good long while, to allow all of the flavors to meld together. What you'll have when you're finished is a dish that not only tastes great, but is good for you, too!
The secret to mastering this fine dish lies in the quality of the ingredients. Each individual ingredient brings something unique and indispensable to the whole meal. Whether it's a savory sense of arrangement, a smooth textured vocal style, a sweet, solid backbeat, or a tangy melodic twist, each ingredient is complementing the others, culminating in a taste much greater than the sum of it's flavors.
This dish has been pleasing the hungry masses of New Jersey club patrons for more than 20 years now, and like a fine wine, it just keeps getting better with age.